JOHN & DAVID ROGERS
LEGENDS OF DOWNHILL
From the 60's to the present day the Rogers Brothers have been repping skateboarding and street luge in their own backyard and abroad. 
They have taken their first hand knowledge, and applied it to create skate products that have been tested and proven to functional and competitive in the skate and luge scene.
60s - Barefoot in Hawaii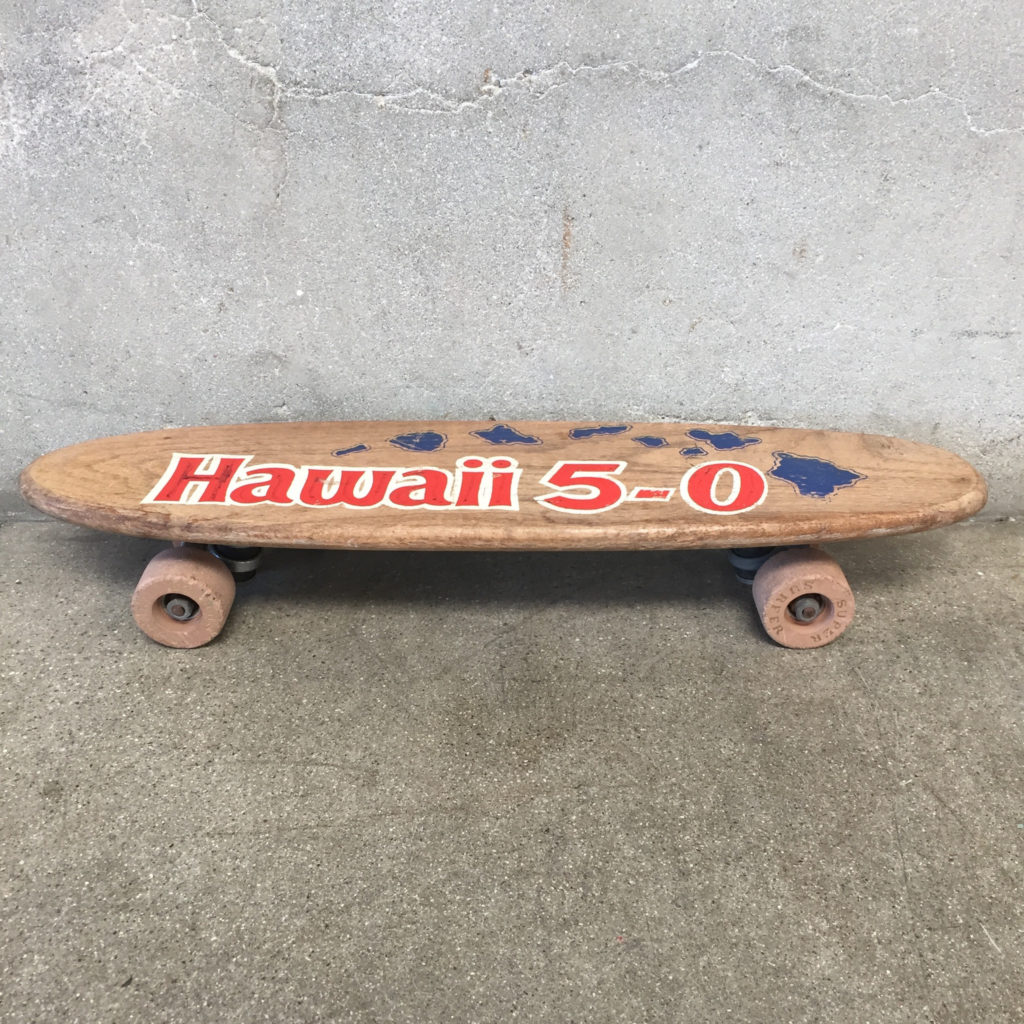 It all started back in Hawaii.
John was a kindergartener and David was in second grade when we spent a year in Hawaii. Our generous parents gave us our first skateboards to push around the neighborhood, and because shoes weren't a big thing in Hawaii, our first rides were totally barefoot. Our " Hawaii 5-0" boards were solid wood with "clay" wheels. These boards are a far cry from modern skateboards, but the fun we had riding them would serve as the beginning of a lifelong passion for skateboarding and all things related.
Next – off to the Air Force Academy.
Early 70s - Down the Hills of Colorado
The early 1970's brought us to Colorado for 3 years while Dad taught at the Air Force Academy. We picked up a used steel wheel skateboard at some point to replace one of the Hawaii 5-0 boards lost in Hawaii.
Since we were living in the foothills of the Rocky Mountains, Colorado would be the first place we experienced riding a skateboard down a hill. The limits of steel and clay wheels are easily realized when riding over cracks on the sidewalk, hitting small rocks, or riding at speed and trying to negotiate turns.
Mid 70s - Board Building Begins
From 1973-1977 we lived in Germany. Soon after the urethane wheel hit the industry, a complete Roller Sports Inc. skateboard was mail ordered from Florida USA. Loose ball bearing Roller Sport "Stoker" wheels and Chicago trucks introduced us to a new age in skateboarding. The smooth grip and feel of the urethane wheels brought skateboarding to a new level – everything was better on a skateboard with urethane wheels, and we were hooked. 
Board Building Begins
After being impressed with David's new skateboard, John was set on having his own and a plan was set to build one.
A set of Rollersport MK IV wheels were ordered and then John and David took care of the rest. A deck was cut from wood using David's RSI board as a template. The local thrift store yielded a set of old roller skates with Chicago single action trucks. The base was removed from one of the skates and then hacksawed in two to yield the trucks.  Wood screws were used to attach the trucks to the deck, the new wheels were fitted and we were off and skating.  Several more boards were made over the next few years. We typically had shop class at school and a woodshop on the military bases to allow us access to all the tools and supplies for building boards. Solid wood decks, block kick boards, plywood longboards and boards with fiberglass laminations were all hand built and ridden with varying degrees of success.
The Golden Age of Skateboard Culture
Throughout the 1970's, skateboarding really took off. The pace of product development, board performance, rider innovation, and rider skill allowed skateboarding and skateboard culture to develop and lay all the groundwork for modern day skateboarding.
We got ahold of our first SkateBoarder magazine in late 1976 and were blown away. As the only media for the skateboard world, Skateboarder would become our lifeline to all things skateboard and skate culture. The pictures, trick tips, stories and advertising were studied with a passion that only 12 and 14-year-old skaters could possess. 
These were the days of the Dogtown crew skating pools and the San Diego County boys were bombing the "Black Hills" in LaCosta. Little did we know that many years down the road we would meet, skate, and even race against many of legends we were reading about.
SkateBoarder Magazine was also our link to buying the latest skate gear. While in Germany we ordered a few boards by mail. Companies such as Val Surf and Kanoa Surf had ads with all the latest skate gear, and we would fill out the small order form and mail it away with a check or money order. Six or so agonizing weeks later, a new skateboard would arrive. Back to the hills.
Mid 70s - The Start of a Career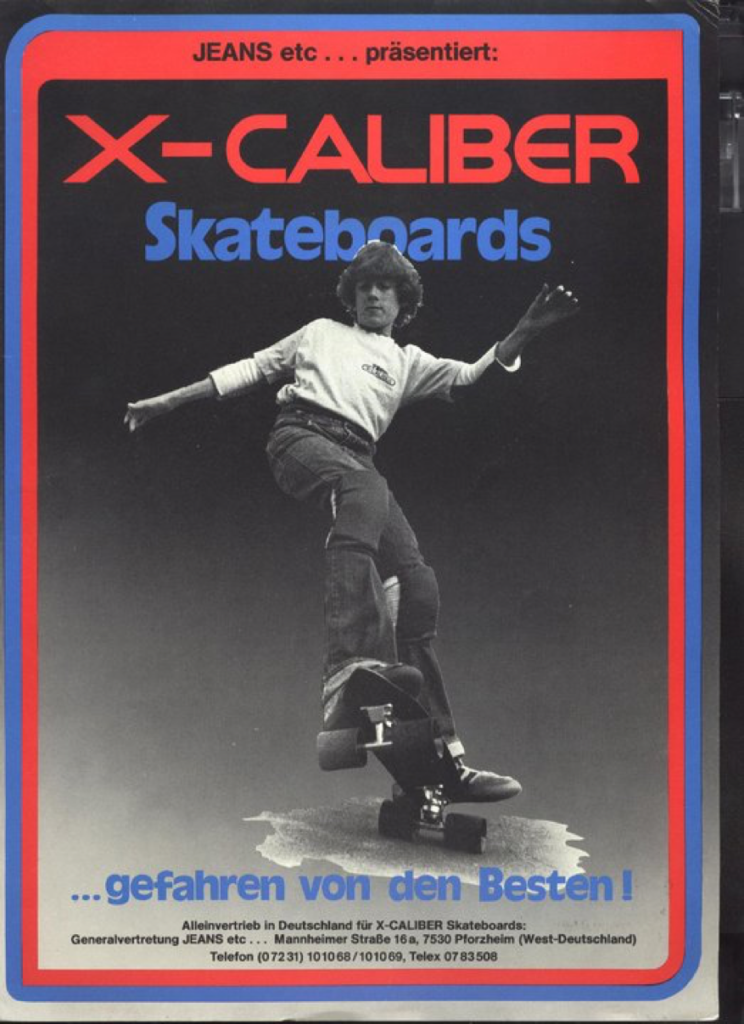 One day while riding our boards on Patch Barracks in Stuttgart Germany, we were "discovered" by the German sales rep for X-CALIBER skateboards. He asked us if we were interested in doing skateboard demos to help boost his sales of skateboards around Germany. We eagerly accepted and the next thing we knew, the Rogers Bros were traveling to perform at sports expos, shopping centers, and storefronts all around the country. We got paid a few bucks for the demos, acquired a bunch of free skate gear, and had real "X-CALIBER TEAM" t-shirts to top it off. We were pretty stoked, to say the least.
The distributor printed up a sales brochure that featured David on the front riding an aluminum X-CALIBER double kick with some giant wheels. It's hard to believe this picture was taken over 40 years ago! If you notice the address reads West-Deutschland (West Germany) as this was 13 years or so before the fall of the Berlin Wall and the subsequent dissolution of East Germany.
Late 70s - Back to the USA
The summer of 1977 had us moving back to the US to spend the next 3 years at the US Military Academy located at West Point NY. Our first stop was Bowie, Maryland to visit our grandparents. Bowie had a great skate shop named Belair Boards. It just happened that Belair Boards was hosting a skateboard contest during the time we were visiting and we were soon excited that we would be entering our first contest.  The contest included freestyle, downhill, and slalom competitions. This was a big contest with up to 100 skaters and over 500 spectators. Read about it here.
John entered the downhill and cruised to a respectable 3rd place in his age group. David entered the freestyle and performed his routine of tricks to the crowd and was narrowly edged out of a podium spot. We had a great time and got a taste of competition that would wet our appetite for many competitions we enjoyed some 20+ years later.
John ripping down the hill to a 3rd place finish at the Belair Boards contest. John was 12 years old riding a 6" x 24" flat fiberglass deck with Bennett Hijacker trucks and OJ wheels: